"I start from the premise that no object created by man is as satisfying to his body and soul as a proper sailing yacht."
– Arthur Beiser 1978, The Proper Yacht
"A boat is like a magic world, like a little island."
– Renzo Piano
"I cannot not sail."
– E. B. White
"Boats, like whiskey, are all good."
– R. D. Culler
"The perfection of a yacht's beauty is that nothing
should be there for only beauty's sake."
– John MacGregor
"Ships are the nearest thing to dreams
that hands have ever made."
– Robert N. Rose
"At sea, I learned how little a person needs,
not 
how much."
-Robin Lee Graham
"It's out there at sea that you are really yourself."
-Vito Dumas
"Now voyager sail thou forth to seek and find."
-Walt Whitman
"Being on a boat that's moving through the water, it's so clear. Everything falls into place in terms of what's important and what's not."
-James Taylor
"There's Nothing—absolutely nothing—half so much worth doing as messing about in boats."
-Kenneth Grahame
"The goal is not to sail the boat, but rather to help
the boat sail herself."
– John Rousmaniere
"The gods do not deduct from a man's allotted span, those days spent sailing."
-Ancient Proverb
"There is little man has made that approaches anything in nature, but a sailing ship does. There is not much man has made that calls to all the best in him, but a sailing ship does."
-Allan Villiers
…in the news:
SOUNDINGS Magazine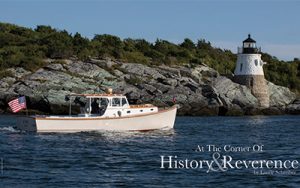 "As a truly custom shop, there's no limit to what we can do." – Alec Brainerd
read more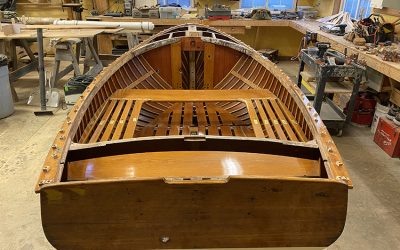 Some are calling 2021 "the great resignation," but from what I'm seeing it's been more a year of restoration.
read more
…current projects:
39′ Luxury Daysailer

Our latest project is a new 39′ luxury daysailer designed by Stephens Waring Yacht Design of Belfast, Maine.
see more
Artisan Boatworks' team of master wooden boat builders have partnered with visionary owners to build more licensed replicas of Herreshoff designs than any other builder since HMCo closed its doors in 1944.
Over the past two decades our craftsmen have earned a reputation for the world's finest custom replicas of classic daysailers, runabouts, launches, Downeast picnic boats, and rowing craft. For the true connoisseur of natural materials we employ traditional plank-on-frame construction, and for cutting-edge performance we excel in the application of cold-molded epoxy, sheathed strip, and carbon-fiber composites – all while maintaining the timeless beauty that embodies the spirit and intention of yachting's greatest designers.
Artisan Boatworks has earned international acclaim for our extreme attention to detail and our distinctive ability to marry classic appearance with contemporary performance, comfort, and usability. Our craftsmen and designers have graced the Atlantic with a symphony of distinguished replicas, modifications of existing designs, and new Spirit of Tradition yachts to match individual style and practical requirements. You won't find our boats in brokerage listings – but you've admired them on the water.
No wooden boat with significant history and pedigree is beyond repair. Our team of restoration specialists has developed a renowned understanding of the research, appraisal, and approach necessary to return important heirlooms to as new or better condition, which is why the most discerning owners throughout the world continue to bring their projects to Artisan Boatworks.
Our particularly holistic approach to restoration is built on several decades of experience lofting and re-establishing hull shape and sheer, identifying and correcting short-sighted fixes and engineering deficiencies; and preserving original design details, materials, and techniques.
We do it once, do it right, with absolute integrity, and to an extraordinary level of finish. This is why the heirlooms restored by the team at Artisan Boatworks win the most prizes, win the most races, and will continue to nurture your family memories for generations to come.
Our clients are extremely proud of their wooden boats, and recognize that specialized off-season storage and expert finishing are critical to their health, appearance, and performance. The service department at Artisan Boatworks cares for over sixty of these distinguished wooden boats, rivaling the capacity of any such yard in the Northeast. Our greatest source of pride, however, is our reputation for the extraordinary level of individualized customer service, world class standard of finish, and custom tailored maintenance services we bestow upon each and every boat and owner.
From New York to Northeast Harbor – experienced wooden boat owners choose Artisan Boatworks' full service "mooring to mooring" storage and maintenance program for our proven efficiency, accountability, and because we love the boats in our care like family.
To an owner, the off-season process of hauling, storing, maintaining, and commissioning their wooden boat can be as enjoyable and fulfilling as time spent on the water.
The best of being a customer of Artisan is that they do exactly what they say that they will do, and to an extraordinary level of quality. I would encourage you to visit Artisan's premises. One genuinely appreciates there the art of building, restoring and maintaining beautiful wooden boats, and the commitment and skill of the Artisan team. Alec treats his customers with the greatest consideration. In 45 years of boat ownership, I've not experienced better.