A Maine native, Alec Brainerd began his boating career at the bottom. Painting bottoms, that is, for Bob Vaughan at Seal Cove Boatyard in Harborside. He went on to teach sailing at Boy Scout Camp Roosevelt, mill and varnish canoe paddles and oars for Shaw & Tenney, and work his way from night watchman to first mate of the 137' Schooner Roseway.
Sailing with the Roseway from Camden, Maine to St. Thomas, US Virgin Islands, ignited a passion for travel and for sailing, which carried him over 15,000 offshore miles in ten years. Alec delivered Hinckleys, Swans, and many large custom sailing yachts, including the 160′ Gerry Dijkstra schooner Adela, built by the Pendennis Shipyard in 1995.   He worked from New England ports, up and down the east coast, to Bermuda, the Virgin Islands, and West Indies, mastering navigation, seamanship, and maintenance of complicated yacht systems. These magnificent yachts required nothing short of absolute perfection from cleaning the head, to varnishing the saloon table, and genuine passion for quality was born.
In 1997 Alec raced aboard the 94′ William Fife ketch Sumurun in the Atlantic Challenge Cup from New York to Falmouth, England. Their first place finish was achieved in sixteen days and thirteen hours, rotating two watches every four hours, the crew slept in foul weather gear as there was not a dry bunk aboard. Quite a feat for a traditional wooden yacht built in 1914 and intended primarily for day sailing. The summer and fall were spent chartering and racing in the Mediterranean.
In 1999 Alec sailed aboard the 82′ cold molded yacht Zanna, designed by Steve Dazell and built by Southampton Yacht Services, from Antigua in the West Indies, through the Panama Canal, to the Galapagos, Marquesas, Fiji, Tonga, French Polynesia, the Tuamotus, and down to New Zealand. Alec lived in Auckland for a year, overseeing the refit of the 100′ wooden yawl Aile Blanche, built by Camper and Nicholson in 1939.  The project included extensive refastening, replacement of the copper bottom, new decks, substantial interior joinery and systems work.
Having traveled the world, no place had yet outshined the islands of Penobscot Bay. Alec signed on to replace the deck of the 83′ Bud Macintosh schooner Appledore III, and possessing a 100 Ton Master's License, was asked to remain aboard as captain. For three years Alec ran the Appledore on two hour day sails from Camden.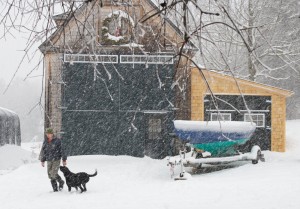 Between yachting adventures, Alec found time to attend boatbuilding school in 1995 – 1996.  With roots now established in Midcoast Maine, he went to work for Taylor Allen and John England at Rockport Marine building and restoring the world's finest wooden boats. There were many rebuilds and new builds, both modern and traditional.  Most noteworthy were the W-76 cold-molded racing yacht White Wings designed by Joel White, and the 122′ schooner Lynx, a traditional replica of an 1812 privateer.
Following five years with Rockport Marine, Alec was offered an opportunity to work with Nigel (Twig) Bower building the 53′ John Alden schooner Heron. After her launch he then helped his friend Dave Corcoran of Bull House Boatworks build a 26′ Chuck Paine daysailer based on a Herreshoff design. Both of these projects were particularly inspirational, as Alec worked side by side with wooden boat builders who were not only masters of their trade, but owned successful small shops.  The entrepreneurial spirit was born, as was a new appreciation for efficiency and good business practices.
In 2002 Alec Brainerd founded Artisan Boatworks LLC. A state of the art shop was constructed on Main Street in Rockport, and since then the business has grown steadily, building and restoring wooden boats, employing a highly skilled team of full time carpenters, finishers, and riggers, and maintaining an ever expanding storage fleet.