North Haven Dinghy by John Alden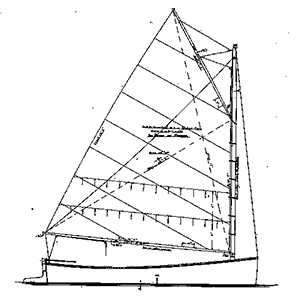 This John Alden design is the oldest actively raced One Design class in North America, with a healthy fleet racing regularly in the Fox Island Thoroughfare between North Haven and Vinal Haven islands, during the summer.
A simple boat with a plumb stem and definite antique appeal, she is primarily recommended for those who want to join the North Haven fleet—there are better designs for those who don't. For one thing she's a rather wet boat due to the axe-like shape of the bow. For another she carries inside ballast that makes her eminently sinkable, and it is a tradition that if you swamp a North Haven Dinghy you're supposed to follow the boat down chucking ballast overboard until she floats again…or you drag her up off the harbor bottom with a grappling hook. Foam flotation can be added to make this exciting prospect a thing of the past.
For hot competition at North Haven, if you don't go for a Dark Harbor 17 1/2, you have to have a North Haven Dinghy.