Maine Coast Peapod by Joel White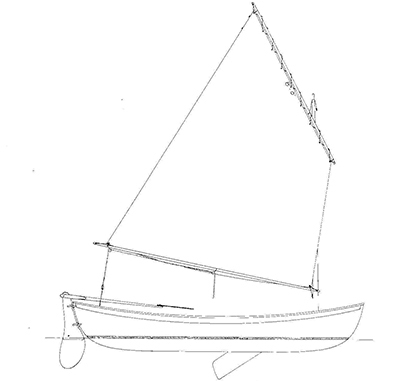 Peapods are one of the traditional indigenous small craft of the Maine Coast. They were developed by Native Americans before the arrival of Europeans, for use on salt water, and could be described as a canoe adapted for rough water and heavy carrying capacity, rather than light weight and portability. Originally constructed in the traditional manner using birch bark as a hull sheathing material, Europeans soon adapted them to plank-on-frame construction and for propulsion by oar and sail.
Until the advent of outboard motors, peapods were often the "entry level" fishing and lobstering boat in Maine, and were often rowed off shore in the morning with the expectation of returning under sail courtesy of the typical afternoon seabreeze. If you were caught out in rough weather they would almost always get you home safely.
While they are seldom used for work anymore, peapods represent the ultimate in a seaworthy open boat with their double-ended hull form, considerable beam, and tremendous buoyancy. They will live, on the end of a towline, when many dinghies would swamp, and this is a good thing because they are too large to bring aboard the typical cruising yacht. Despite their size, they tow with minimal resistance, and are thus one of the few yacht tenders that are usually capable of carrying a yacht's entire crew, plus a lot of gear, in complete safety. For decades they were the typical tender for Maine cruising boats whose owners could afford something more than a minimal dinghy.
To our way of thinking one of the best things about a peapod is that they are pretty much impossible to outfit with an outboard motor. They are for rowing and sailing only. As a rowboat, peapods are easily propelled by one person, but they have the advantage of accommodating two pairs of oars and two oarsmen, when desired. You can cover a lot of ground quickly and with surprisingly little effort, with two people rowing. Peapods are typically absolutely symmetrical, fore and aft, and traditionally require a "peapod rock" consisting of a round beach stone, to weigh down the end designated as the stern, thus making the boat track straight. As a sailboat, peapods are traditionally built with neither a rudder nor a centerboard, depending on a long, shallow keel for lateral plane, and being steered by shifting crew weight forward and aft. If that sounds impractical, think again. A rudder introduces a fair amount of drag in any boat, so its absence contributes to speed. A rudder serves as much to prevent a boat from turning as to cause it to turn, and many people have been surprised to find how easy it is to make a rudderless peapod turn, tack, and jibe, and how easy it is to hold them on course with only subtle movements of the helmsman. The long, shallow keel makes this easier by tending to track straight and by causing strong shifts in balance, for steering, when weight is shifted in the boat. You could call it Down East windsurfing, good for less athletic sailors and for cold water. The usual centerboard trunk will not be missed, inside the boat. The spritsail rig has no boom, so one can easily row out of a tight spot without taking the sail down and without being hit in the head by the boom. Also the sail can be tightly furled against the mast by winding the halyard around it, a great convenience when tying the boat up at a dinghy dock or when she lies astern of a larger boat, ready to use.
A peapod would represent an excellent daysailer or beach cruiser and would tow on a very light trailer. For the faint of heart she can be built with a rudder if desired! A centerboard would come easily, too, for better windward performance.
Joel White's peapod, like many of his small boat designs, seems to take everything good about the type and combine it in one, very beautiful design that represents the ultimate evolution of the type to date.