Herreshoff 12 1/2
by N. G. Herreshoff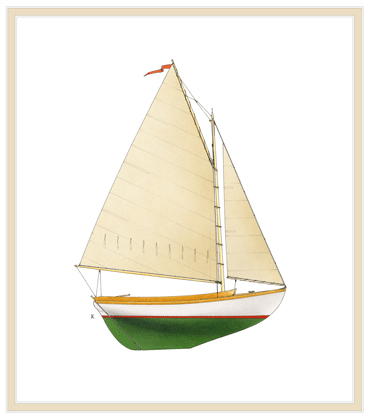 Displacement:
1,500.00 lbs
Hand built to Captain Nathaniel Herreshoff's original 1914 offsets, using identical materials and production practices. Artisan Boatworks' wooden Herreshoff 12 ½ replicas are accepted by the H-Class Association, are very competitive on the race course, and are available in either traditional or epoxy composite construction. Download a Specification Sheet Here.
Available with either a marconi or a gaff rig, 12 ½'s are still actively raced in many harbors. Designed in 1914 for kids to learn how to sail, they remain one of the most long-lived and ubiquitous one-design classes in New England. Many who learned to sail in a 12 ½ (perhaps having sailed larger boats in the interim) continue with them for the remainder of their sailing lives.
Buoyant and stable, with a ballasted keel – virtually the whole boat is a large, deep, comfortable cockpit that will seat a gang in comfort, and offers a great feeling of security. This would be the ideal boat for taking small children along. The jib can be reached from the cockpit so it is never necessary to leave its security, the rig is small enough so a young child can sail the boat, but it is powerful enough to provide very pleasing performance under all typical conditions. A roomy cockpit sole makes it possible for one person or two very friendly people to sleep aboard under a boom tent, and some ambitious cruises have been made in these boats, over the years.
The utility of the 12 ½ is limited only by the fact that their draft is too deep for convenient beaching. They would come to no harm being grounded out on a suitable shore, but you'd have to get wet to get ashore when they first touch and you might have to wait quite a while for the tide to float you off.
For this reason Joel White produced a design identical to the 12 ½, but with shallower draft, a centerboard, and increased beam. The Haven 12 ½, as she is called, has all of the virtues of the original design, but she can poke around in somewhat thinner water than the original, and is much more convenient to set on a beach. The cockpit sole is not quite so clear because of the presence of the centerboard trunk.
We often describe these 12 ½'s as "some of the world's perfect boats." We have never met an owner who disagrees.
View Herreshoff 12 ½ construction images
View Herreshoff 12 ½ FROG
View Herreshoff 12 ½ CRESCENT MOON
View Herreshoff 12 ½ PUMPKIN