Camden Class
by BB Crowninshield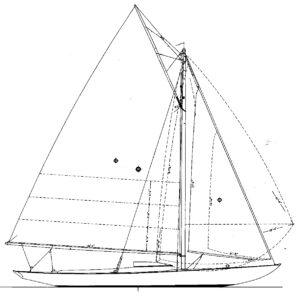 Displacement:
3,743.00 lbs
Designed specifically for racing out of our neighboring town of Camden, this boat is very similar to a Dark Harbor 17 ½, but in a more extreme version, with a slightly shorter waterline and significantly longer ends.
She is ideally suited for the local conditions, having a large gaff rig that will move her along very well in light air, and a hull that will keep moving fast in the nasty wind-against-tide chop that can develop just outside the harbor. She'll be wet, but she'll give a heck of a ride.
The emphasis is on a large cockpit keeping crew weight centered in the boat, but she has a small cuddy for privacy when needed.
Given the sweet and slippery sailing characteristics of Crowninshield boats it would be hard to imagine a nicer daysailer for conditions like ours. She could carry quite a few friends on a day's outing. She was born to race, though, and she would be a good contender in classic yacht races such as we have locally. None of the original boats survive, but she would be a wonderful One Design class for Camden today, and there are occasional discussions about reviving the class.