Happy Holidays from the crew here at Artisan Boatworks! The shop is abuzz with new boats a-building, old boats being restored, and a whole fleet of classics snug in their sheds. We hope you enjoy this quick overview of what we're up to this winter. 
OUR NEXT PROJECT: A CAMDEN CLASS KNOCKABOUT
Over twenty-five years ago, as a teenager crewing aboard the schooner ROSEWAY, I purchased my first set of boat plans from the WoodenBoat Store. Those plans were for the Crowninshield-designed 28' Camden Class Knockabout, and I was determined that someday I would build one. Although by now they're somewhat yellowed and reticent to unroll from their tubular formation, those plans are still with me, so you can imagine my level of interest late last August when a gentleman from Massachusetts called and announced that he was interested in having us build one.
By himself, he had already completed the cold-molded hull of this Camden Class Knockabout, but after seeing our work displayed at the WoodenBoat Show in Mystic, CT, he decided that we would be a good fit for completing the project. The hull arrived on a custom-built trailer in November, we will begin work in February, and the launch date has been set to coincide with the Camden Classics Cup on July 23. So be sure to mark your calendar and sign up to join in the festivities.
This project will result in the fulfillment of a life-long dream for both the boat's owner and me—a poignant reminder that when you hold onto a dream long enough sometimes fate has a way of making it happen in ways you never expected.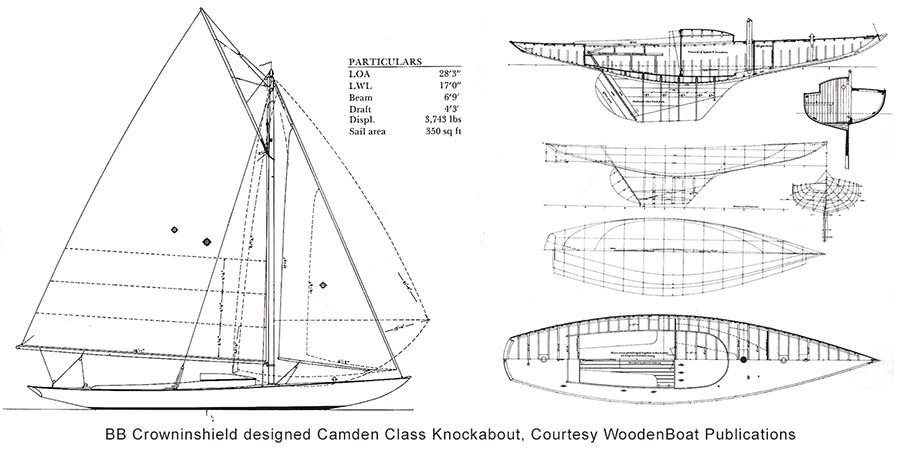 WHIRLWIND II
Presently, we're mid-way through re-creating the 26′ catboat MARIAM that was designed and built in 1898 by Gil Smith of Great South Bay, Long Island. Although the hull of this new boat, named WHIRLWIND II, is being built with state-of-the-art wood/epoxy composites, in other respects she will be entirely faithful to her original design.
Owner Yarrow Thorne's focus has been on putting together the best possible team to collaborate throughout the project on the historical research, mechanical engineering, construction, documentation, and sailing. Building a boat in this way is so much more than just building a boat, and it's been an honor working with Yarrow and this dedicated and talented team. To learn more please visit the website: Whirlwind2.com.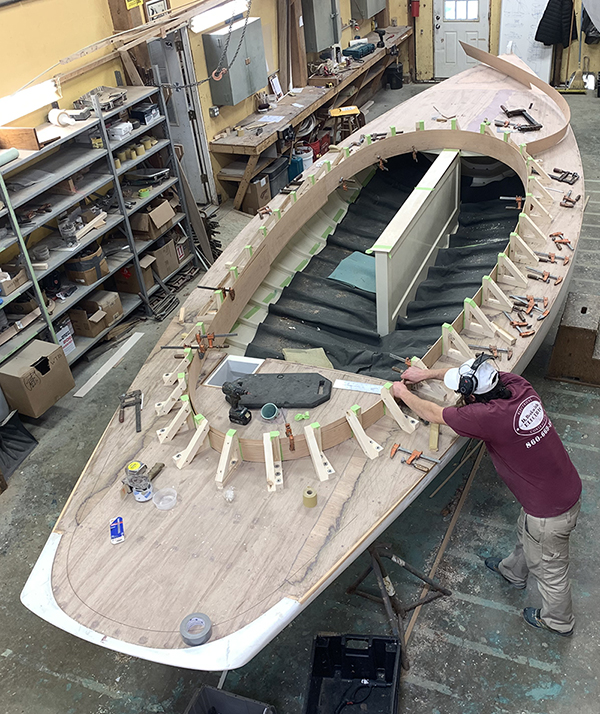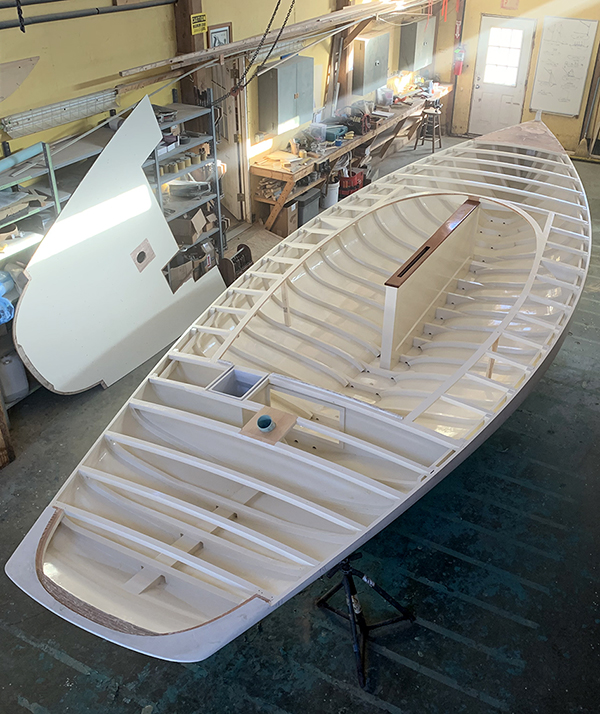 EVEN FALL
Sitting next to WHIRLWIND II in the carpentry shop is an original Herreshoff 12 ½ called EVEN FALL. She had received new frames and floor timbers from boatbuilder Eldred Cooper some thirty years ago, but the remaining ninety-plus-year-old oak had finally reached its limit. We're replacing the stem, keel timber, and stern knee—and once the garboards go back on we'll be replacing deck canvas, attending to her paint and varnish, and sending her back to her owner in Harpswell, Maine. 
EVEN FALL carries sail number H-42 and throughout most of the 1990's belonged to Carol Reinisch of Quissett, MA. She's undoubtedly an original 12 ½ built by Herreshoff Mfg. Co., but her hull number and earlier provenance remain a mystery. If anyone has information that might lead us to past owners or names for this boat, please let me know.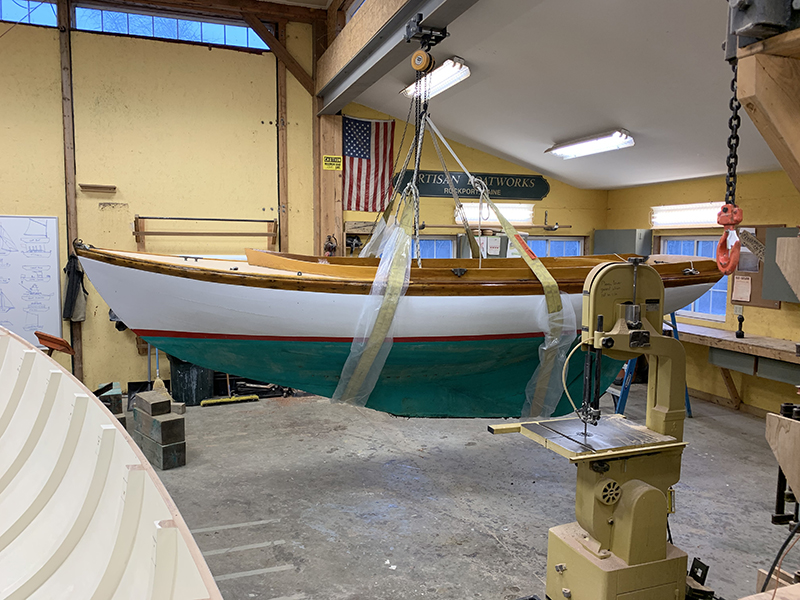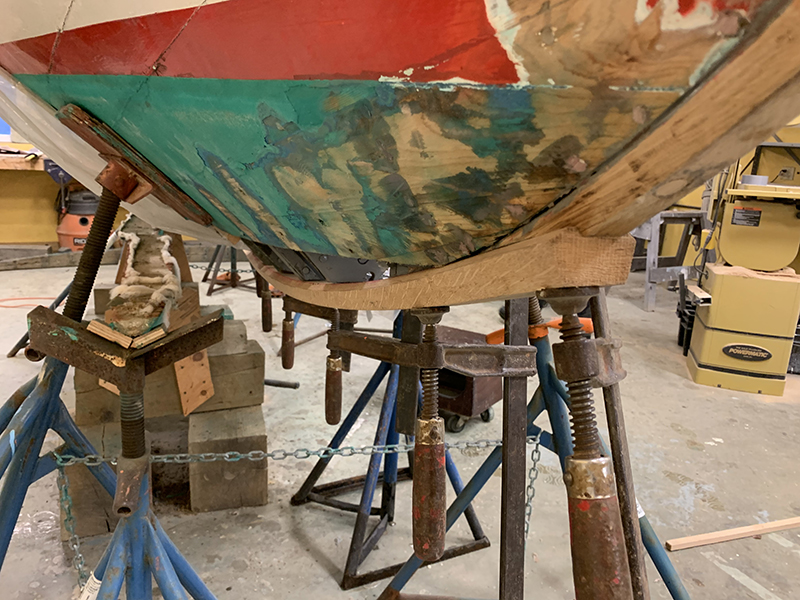 CONCORDIA YAWL, DAME of SARK
When we built BESHERTE, a 29′ Herreshoff Buzzards Bay 18 for experienced yachtsman Josh Goldberg in 2013, she was his first wooden boat. Now, six years later and with several major regatta trophies on his mantle, Josh was ready for a bigger wooden boat—one that could better handle the chop on Buzzards Bay and travel longer distances between regattas.
Josh, his captain Nick and I spent much of the fall traveling throughout the Northeast looking at wooden boats in the 40′ range, but when we arrived at Dodson Boatyard in Stonington, CT, and looked at the 1961 Concordia Yawl DAME of SARK, it took only about ten minutes to determine without a doubt that she was the one.
DAME was hauled, down-rigged, and lovingly packed for transport by Bob Snyder's crew at Dodson's and trucked to Artisan Boatworks in early November where she joined the fleet of nearly eighty other wooden boats that we store and maintain. This winter DAME will receive lots of varnish, a new B&G electronics package, and a few other upgrades before hitting the water in May to join the classic yacht regatta circuit. We wish Josh and Nick the best of success aboard DAME this coming summer—where, from our vantage aboard our own yawl NORA, we're certain to see a lot of her transom.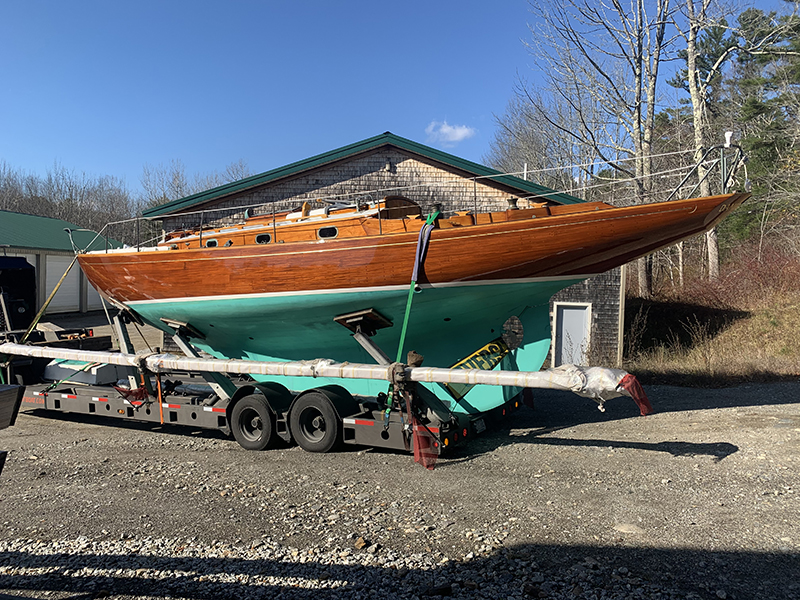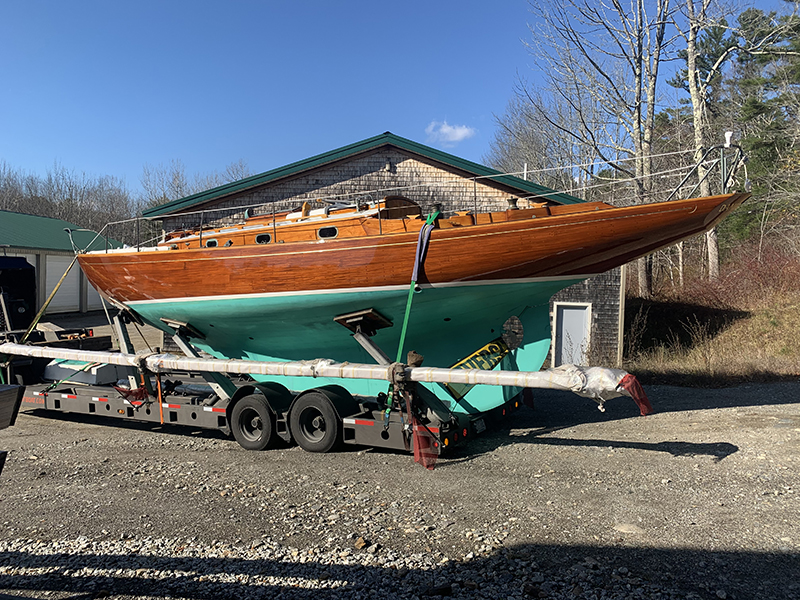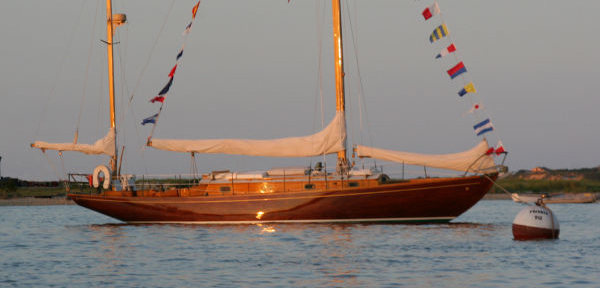 BROKERAGE:  Boats SOLD
We would also like to congratulate the new owners of MOONDANCE, ZEPHYRUS, JERICHO BOY, ACTRESS, ARION, and JESTER — all of which were sold through our brokerage office in the past four months.  Don't worry though, there are still plenty more to choose from! We currently have about 30 wooden boats for sale, both sail and power, that you can view in the brokerage pages at www.artisanboatworks.com.
We are currently accepting select new listings and are always glad to represent buyers who are beginning their search.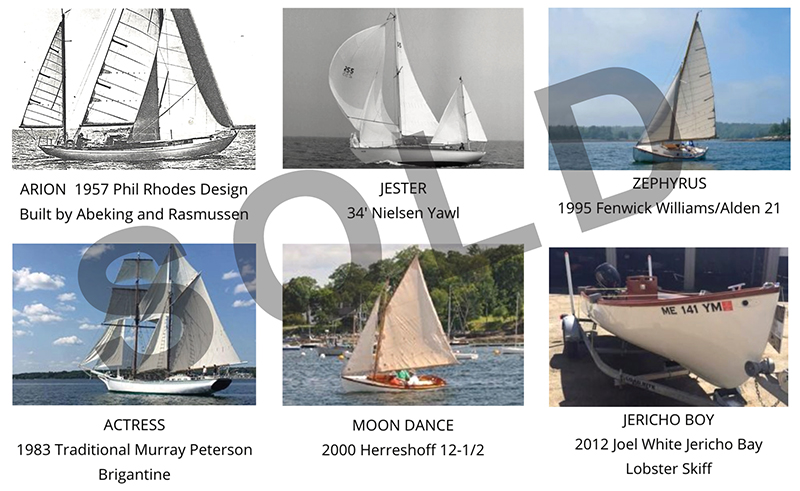 Here's to a happy, healthy and prosperous New Year for you and your families. We wish you a joyous holiday season and look forward to seeing you here at the yard or out on the water next summer. 
Kind Regards,
Alec and Erin Brainerd