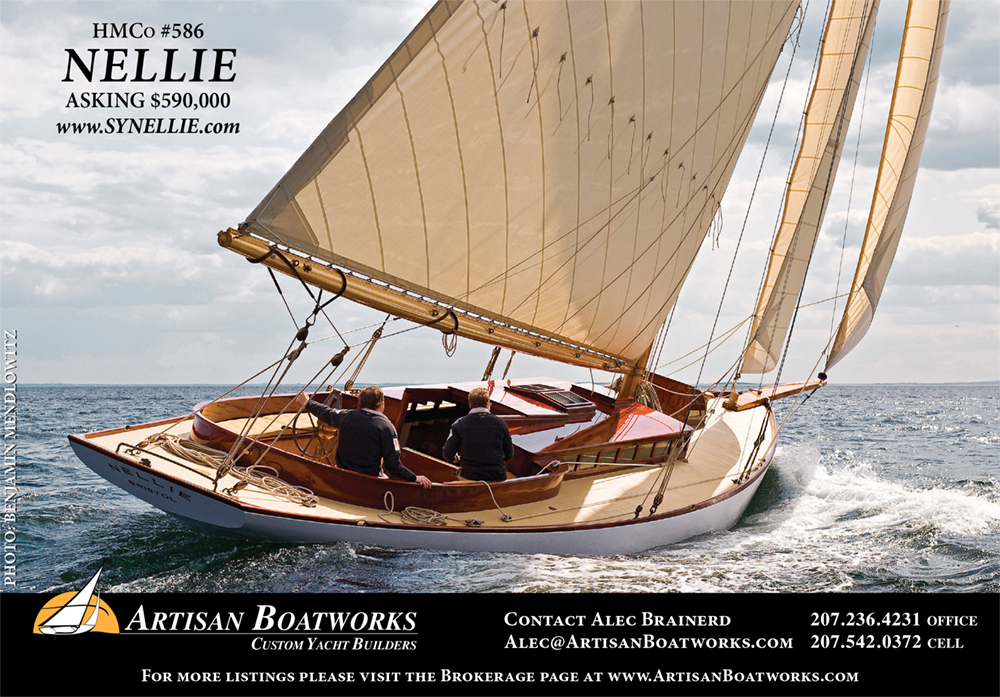 Launched by Herreshoff Manufacturing Company in November of 1902, NELLIE falls in the sweet spot of classic sailing yachts…not too big, not too small. She can be sailed by two for a sunset cruise or raced competitively with a crew of ten. This combined with the intrinsic beauty of her classic Herreshoff sheer and cutter gaff rig have contributed to her remarkable longevity.
In 1902 and 03, the Herreshoff Mfg Co. built three virtually identical full-keel yachts to the 35 foot waterline racer/cruiser class: AZOR for Malcolm Forbes, TRIVIA for Harold Vanderbilt, and NELLIE for Morton Plant (NELLIE was named after Plant's wife, Nellie Capron). In his biography of his father, L. Francis Herreshoff wrote of the trio of 35 ft waterline sloops, "These three were among the nicest all-around sail boats of their size ever built."
From 2007 to 2010 NELLIE underwent a carefully researched, museum quality, keel-up restoration, and today is in "better than new" condition. This restoration was featured in the 2010 Classic Yacht Symposium at the Herreshoff Marine Museum in Bristol, RI and is available in digital format for those who would like to see it.
NELLIE's classical well-appointed interior provides a level of luxurious comfort not seen on pure racing yachts, and her spacious cockpit is equally suited to silver service dining as it is to sailing.
NELLIE is ready for immediate delivery. To learn more please visit NELLIE's website or call to schedule a showing.
CURRENT PROJECT: BUGATTI YOU-YOU RE-DO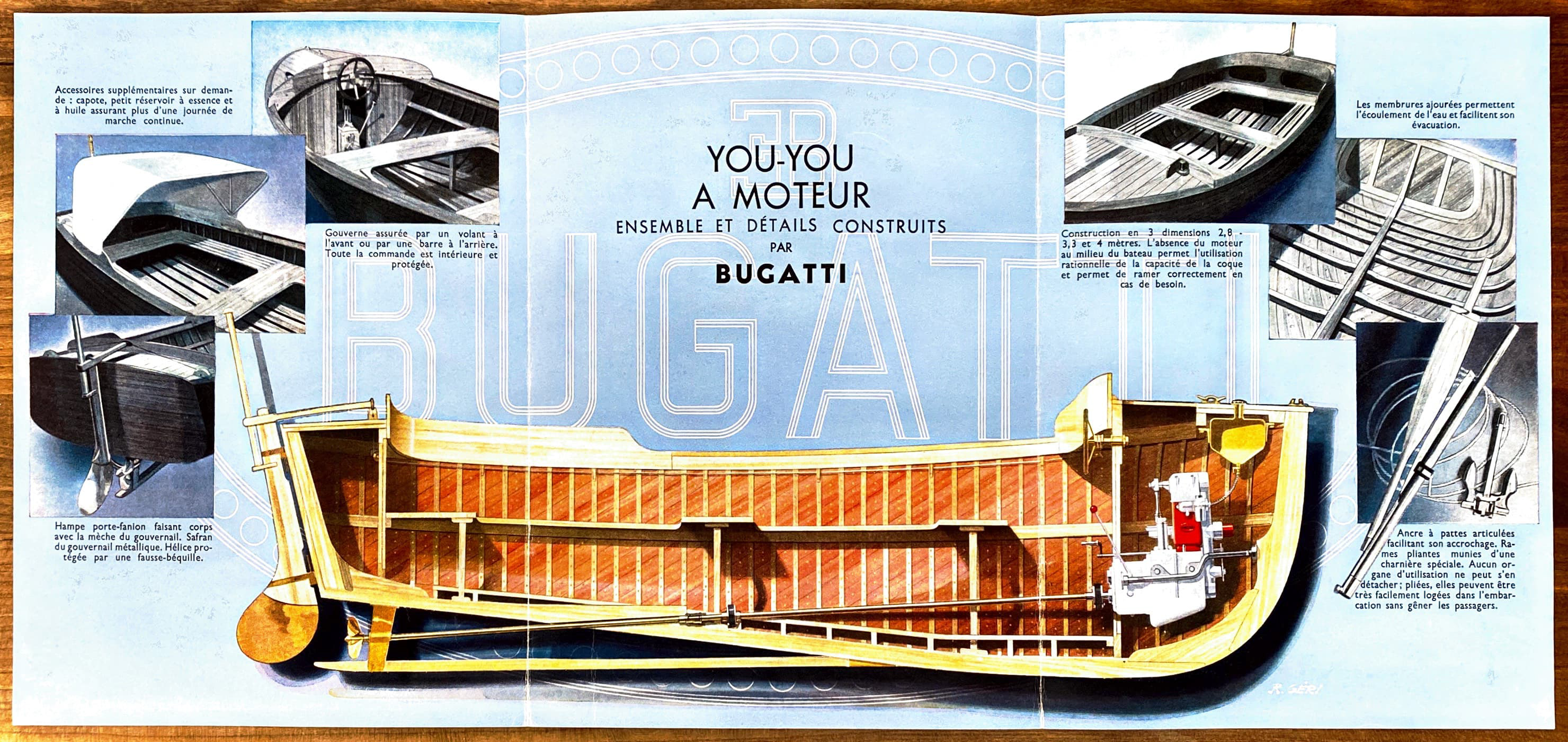 Most associate the Bugatti name with automobiles, but during the German occupation of France Ettore Bugatti purchased a small shipyard northwest of Paris on the Seine river and started building boats. He designed the YOU-YOU in 9, 11, and 13 foot lengths, and it is speculated that only a single prototype of each was built before his death in 1947, along with a cutaway model currently on display at the Schlumpf Museum in Mulhouse, FR.    
The smallest of these prototypes was owned for many years by Tom Perkins and kept aboard his classic motor yacht ATLANTIDE, which, under new ownership, is currently undergoing restoration at Royal Huisman in Holland.  
Unfortunately, YOU-YOU did not fare well over many years on ATLANTIDE's upper deck, and her double-planked copper riveted hull planking and backbone structure were deteriorated beyond repair. Our crew has been enlisted to undertake the complete restoration of this priceless artifact, while her original Bugatti 170 cc single cylinder engine is being restored by Leydon Restorations in Lahaska, PA.
An original 11′ YOU-YOU is on display at the Mullin Automotive Museum in Oxnard, CA. If anyone knows the whereabouts of other original Bugatti YOU-YOUs, we would be grateful for more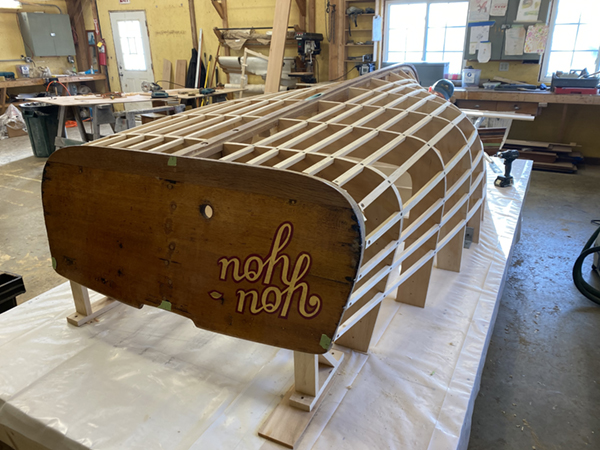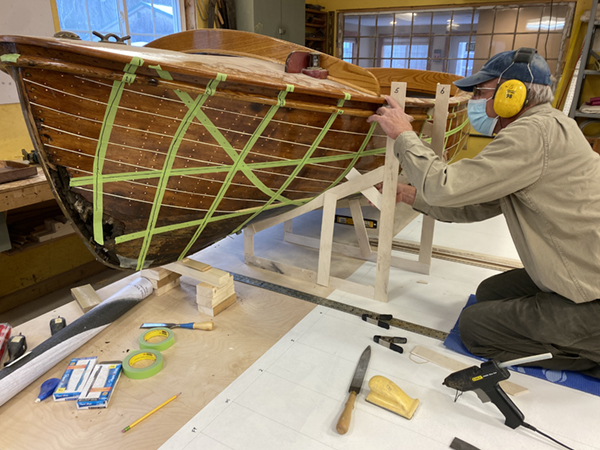 JUST FINISHED: WHIRLWIND II
WHIRLWIND II is a new recreation of the 26′ Catboat MARIAM, originally designed and built by Gil Smith in 1898 for racing on Great South Bay, Long Island. The project has been divided into four stages over four years, and Phase 3 was completed in December. Phase 4 will include the rig, removable house top, centerboard, and rudder/tiller.  WHIRLWIND II will be on display at this summer's Wooden Boat Show at Mystic Seaport August 20-22 and launching is scheduled for summer 2022.
 WHIRLWIND II is the brainchild of owner Yarrow Thorne, founder and director of The Avenue Concept in Providence RI. It has been an honor collaborating with Yarrow and the distinguished group of professionals he has assembled for design, engineering, and documentation. These include Captain Mary Ann Thorne, project manager Ezra Smith, naval architect Matthew Smith, photographer/filmmaker Alison Langley, writer Chris Museler, artist Russ Kramer, and cat boat advisor Tim Fallon. As they say, "it takes a village" and the Artisan Boatworks crew and I are grateful to be working with such an amazing support team.  
For more information about WHIRLWIND II and to watch Alison's documentary photos and videos of the build, please visit www.Whirlwind2.com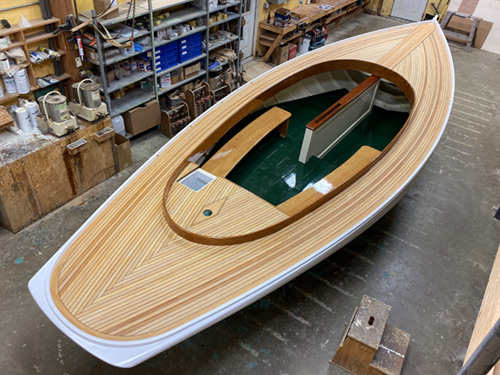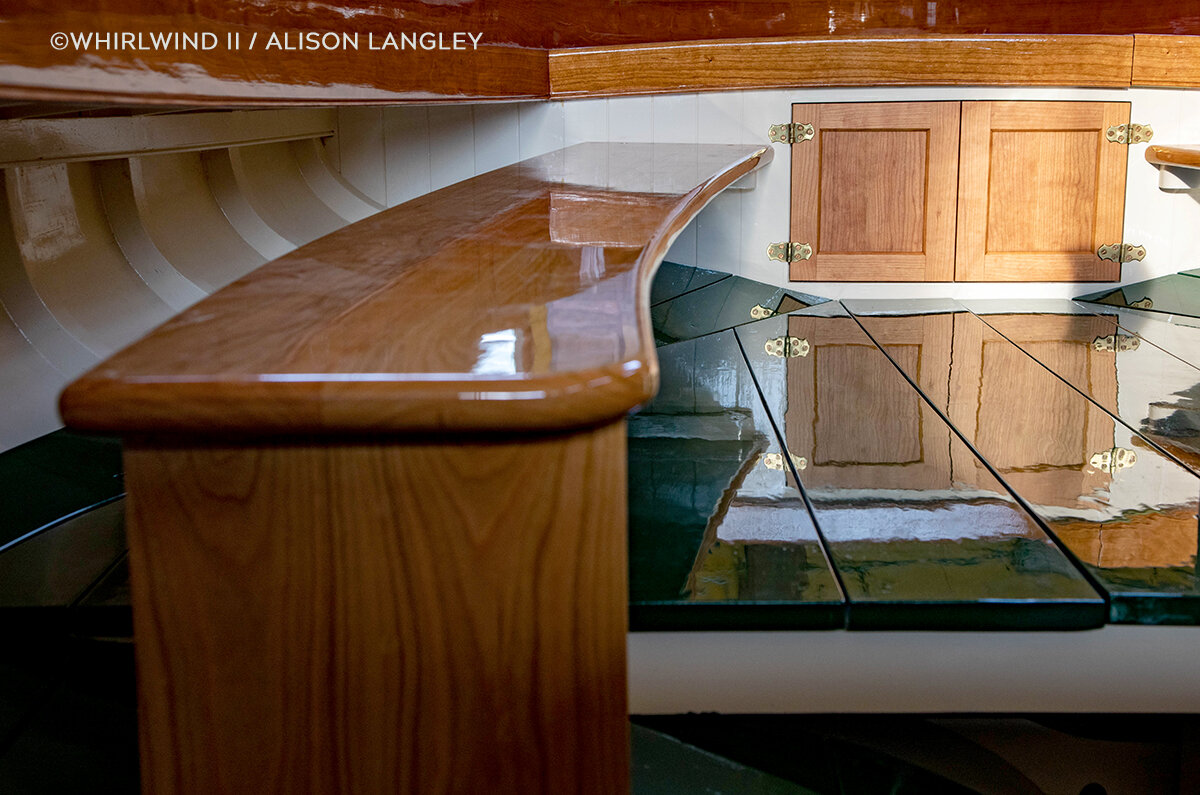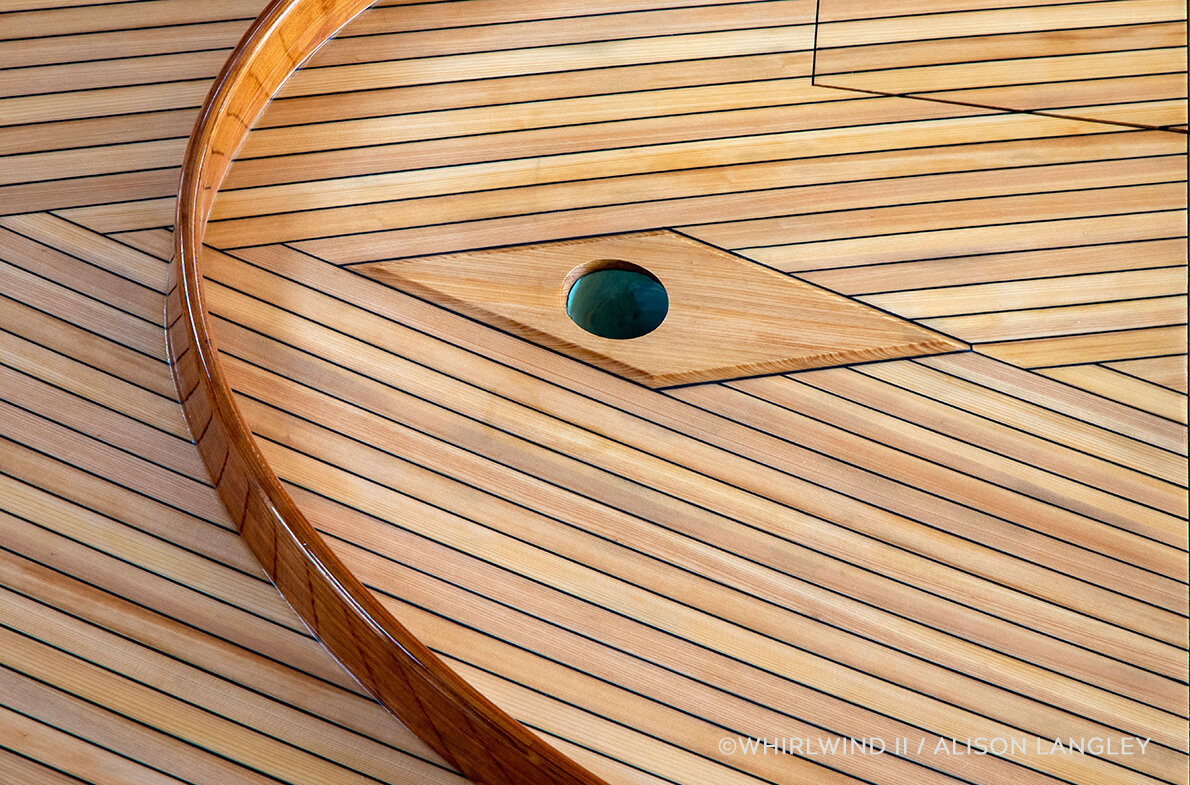 BOATS FOR SALE
Here are a few of our newest listings – click on each photo for more details, and view all of our current listings on the brokerage pages at artisanboatworks.com.

NELLIE, a 46′ gaff cutter, was launched by Herreshoff Manufacturing Company in November of 1902. She can be sailed by two for a sunset cruise or raced competitively with a crew of ten. From 2007 to 2010 NELLIE underwent a carefully researched, museum quality, keel-up restoration, and today is in "better than new" condition.
MEANDER was built in 1951 by Morse Boatbuilding Company in Thomaston, ME and is one of eleven sisters built to John Alden's design #880 known as the SEAGOER class. She is a classic John Alden cutter, fully restored to modern boat standards, and ready for coastal cruising or world voyaging in safety and comfort.
CIRQUE is 1986 Lobster Yacht built by Robert Rich at Bass Harbor Boatshop. She has a solid wood hull with a great setup for coastal cruising with a V-berth and head below, and a new 2014 Marine Power Vortec 5.7L 300hp with low engine hours.
CIRRUS was designed by Sparkman & Stephens (#280) and launched in 1939. Built of the finest materials by the Nevins yard of City Island, NY. She underwent a major refit and was relaunched in 2008. Seldom are we fortunate enough to find a moderate sized boat with such a great pedigree in top condition.
ORCA Is a new Nordic Folkboat, launched February 2018. She was built by the Northwest School of Wooden Boat Building to an exceptionally high standard and won first place in the Port Townsend Annual Shipwrights Regatta. The Folkboat has been described as the most popular, successful and influential sailing yacht of all time.
VICTORIOUS was built by McGruers of Scotland in 1980. This superb little daysailer was designed in 1977 by David Boyd, a draftsman in the office of William Fife III who went on to become one of Britain's best known yacht designers throughout the 1950's and 60's. She has been described as a miniature 12-Meter, and represents the culmination of the designer's success with 6-Meters and other small racers.
BOATS SOLD
Congratulations to the new owners of APPLEDORE, BETSY DIGBY, CERCERELLE, GOT-CHA, GIMLET, LEVERA, LYRA, MAEVA, MEIGA del MAR, SAM I AM, SAY WHEN, TIDAL WAVE, TINA MARIE, T/T TRUANT, and VELA, all sold through our brokerage since last fall.
As you can see it's been an extremely busy winter for brokerage. Do you have a wooden boat that you've been thinking about selling? The timing couldn't be better. Call Alec to discuss listing your boat through our brokerage in 2021.
We are accepting select new listings and are always glad to represent buyers who are beginning their search. For help finding a classic wooden boat, or to list your current boat for sale, please visit artisanboatworks.com and click on the Brokerage pages, or call me directly at (207) 542-0372.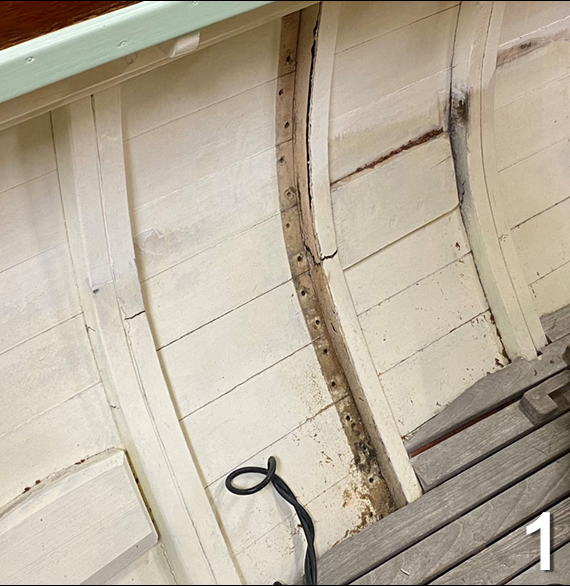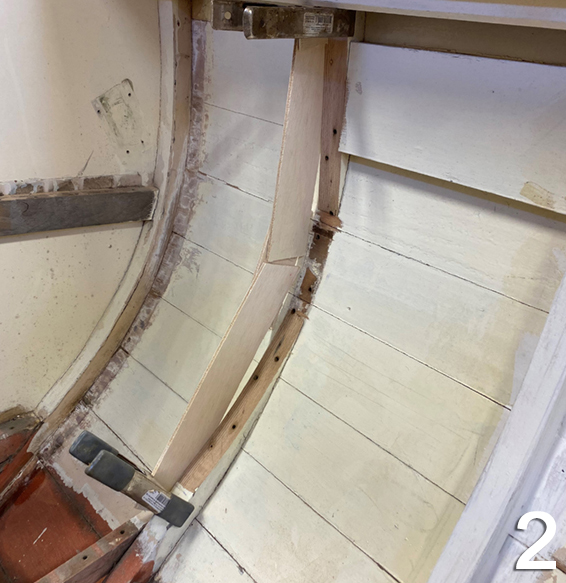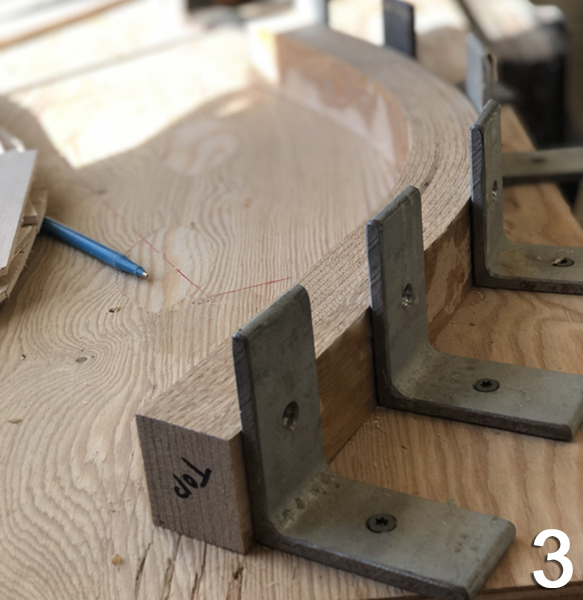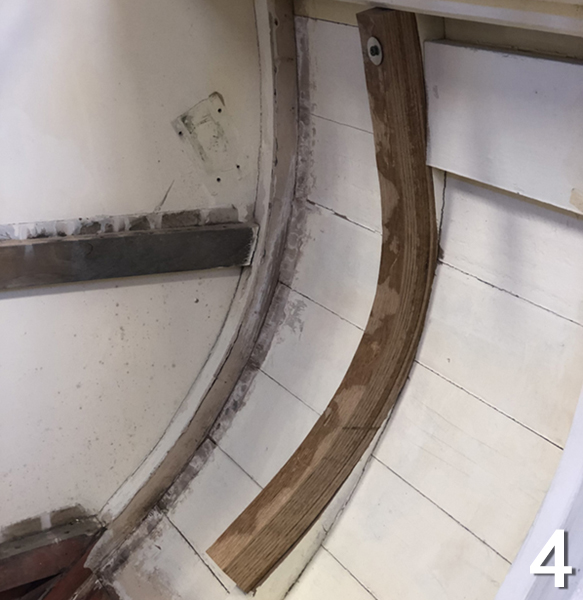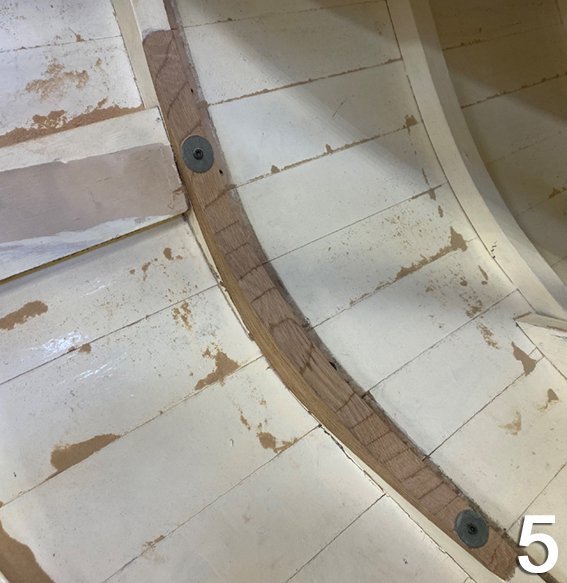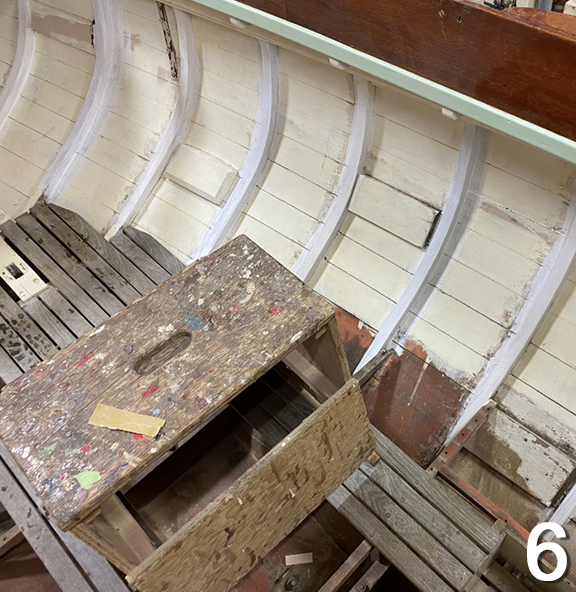 CERCERELLE is one of three Rozinante canoe yawls designed by and commissioned by L. Francis Herreshoff himself and built at the O. Lie Nielsen Boatyard in Rockland. She was launched in 1972, has been in our service program for many years, and sold to a new owner this past winter.  
A common problem with mahogany planked hulls is their propensity to break frames, and a typical quick fix is to steam in "sister frames" The problem with sister frames is that they usually break right next to the original break, making the problem worse.  
CERCERELLE had her fair share of sister frames, and her new owners decided it was time to make her right. Above is our process for removing sister frames and "healing" the original break with a scarfed in laminated section. The result is minimally invasive, stronger than before, and visually indistinguishable from original.
Does your boat have sister frames? Have a close look and let us know if they've broken as well.
VIRTUAL WORLDWIDE CLASSIC BOAT SHOW
Would you like a free ticket to Off Center Harbor's (virtual) Worldwide Classic Boat Show? Through March 7, you can check out over 600 of the finest classic boats around the world in the show.
They just sent me the following link and instructions so I could share free guest passes with family and friends.
 How To Get Your Free Ticket:
1. CLICK HERE to get your free ticket (here is the full link if you need it: https://classicboatshow.com/och-guides-22)
2. You'll see that a coupon has been applied and the ticket price is reduced to $0.00
3. Simply checkout for free, and your username and password become your ticket
4. Go to ClassicBoatShow.com, login to get full access, and enjoy the show!
If you have trouble getting your free ticket, you can always email the show's crew for help at crew@classicboatshow.com.
Enjoy the show!