Greetings!
2019 promises to be an exciting year, with several new builds in progress, new service clients joining the fleet, and old friends returning in the spring. We're proud to be your boatyard and look forward to hearing from you.
Erin and I were honored to recently become members of the Cruising Club of America and along with our daughters, spend as much time as possible each summer exploring the harbors and islands of Penobscot Bay aboard NORA, our beloved 40' Sparkman & Stephens yawl. Mid-coast Maine offers some of the most beautiful cruising in the world and we are extremely fortunate to live and work here. Last summer, Alison Langley joined us for a day to produce a wonderful promotional video aimed at attracting younger members to the CCA. To learn more about this esteemed organization please click on the video to the left and join us for a virtual "day in the life."
Late July will mark the second year of our newly established Daysailer Class as part of
Camden Classic Weekend
. We had an amazing turnout last year that included many local racing classes including four Dark Harbor 17s. This year's event is scheduled for July 25-27 and we hope to add more DH-17s, our pair of Buzzards Bay 18s, and a reunion of Camden's Haj Class, aka Finn boats. The Daysailer class is open to any classic sailboat 25' waterline length and under, and signups have already begun. Let us know if you need help getting your boat to Camden Classics.
In early August, I was honored to speak on a panel hosted by the
Castine Yacht Club
on "The Craft of Traditional Boatbuilding," sharing the stage with our friends at Stephens Waring Yacht Design, Lyman-Morse Boatbuilding, Rockport Marine, French & Webb, and Brooklin Boatyard. There was just time after the reception to hustle back to Camden, hop aboard NORA and cruise up to Brooklin for the
Eggemoggin Reach Regatta.
BESHERTE, a 29' Buzzards Bay 18 we built in 2013, made her way up to the ERR as well, so we left NORA rafted on a mooring and raced aboard BESHERTE in great wind and thick fog – winning first place in the gaffs and schooners class. BESHERTE is for sale as well as many other great boats in our Brokerage.
Back at the shop, Ian built what has come to be known as the Herreshoff 6-¼. It's the forward half of a 12-½, planked on one side only. This piece is now on display at the MIT museum in Cambridge, MA as part of their Hart Nautical Collection Exhibit "Stronger, Lighter, Faster." Erin and I attended the opening reception in September, and the exhibit will run through May, 2021. "Lighter, Stronger, Faster" celebrates the spirit of innovation by examining the unparalleled impact on marine design and engineering by Nathanael Greene Herreshoff and the Herreshoff Manufacturing Company.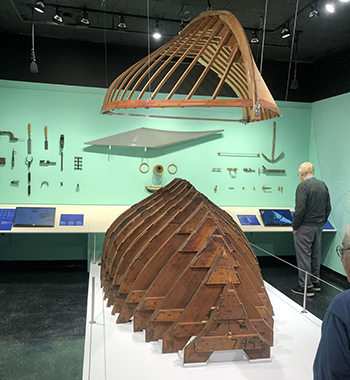 Occasionally, Artisan Boatworks has the opportunity to perform "special ops" missions in exotic locations. Such was the case building and installing deck furniture for a 140' classic motor yacht being restored in San Diego over the past year. This was the same yacht we built the 24' tender for that graced the cover of
Wooden Boat Magazine
in August, and we were honored to stay on the team to build deck boxes, ladders, a scuttle hatch, and settees. M/Y MARIE has since transited the Panama Canal and is on the East Coast. Keep an eye out for her in New England this summer.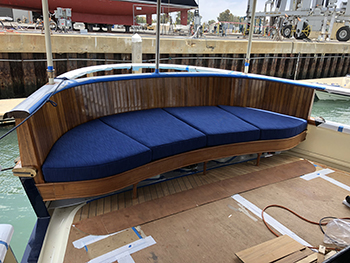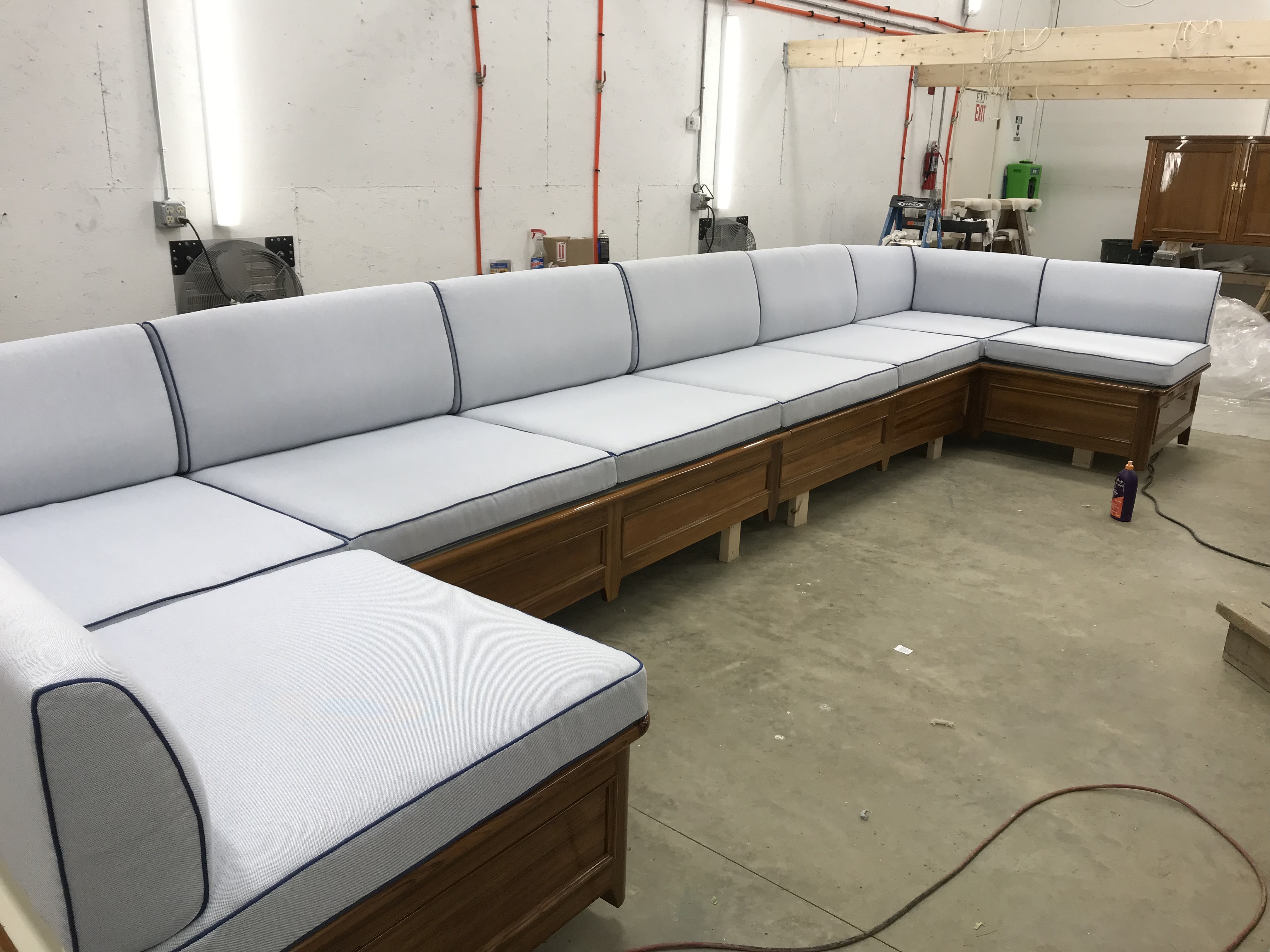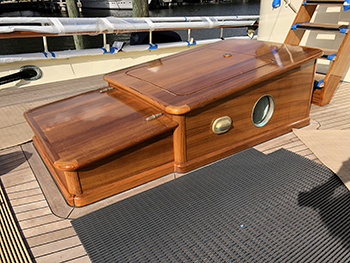 Our current project in the shop is a new full-keel Buzzards Bay 15. Based on the well-known centerboard Buzzards Bay 15 designed by Herreshoff in 1898, the full-keel adaptation was drawn by NGH in 1907.
The full-keel 15s are well-balanced and stiff, featuring an extra-spacious cockpit and self-tending rig with no running back stays. This new boat (to be based in Marblehead, MA) will make her debut in a few months at the Cape Cod Boatbuilders Show in Hyannis March 22-24. We hope to see you there!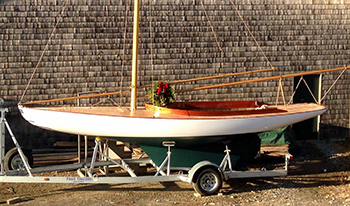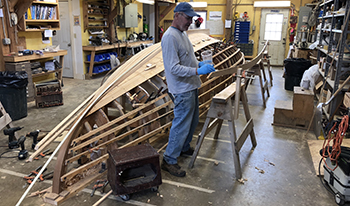 Our
Service Department
is cranking as always. The new paint bay is working out wonderfully and our seasonal storage and maintenance fleet is seventy-five boats strong this year – coming from as far afield as Long Island, Nantucket, and Mount Desert Island. These boats ride out the winter in our specialized unheated, gravel floor storage buildings and come into the heated paint bay for only a week or so to receive annual paint and varnish.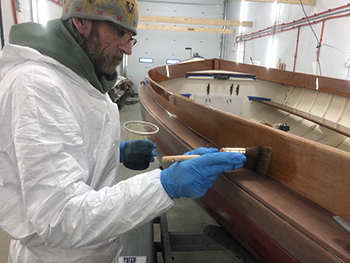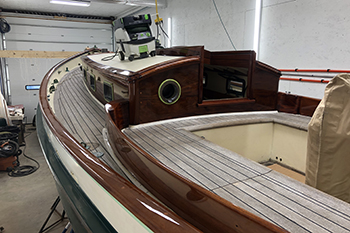 A particularly rewarding project this fall was the cosmetic restoration of KATY, a Murray Peterson cutter that was built by
Ned Crosby
and his crew in 2004. KATY recently sold through our brokerage and her paint and varnish were suffering badly. Her new owner asked the crew to strip and refinish all of the deck and spar varnish and recoat all of the painted surfaces. What a difference a few weeks can make! We're so excited to see KATY sailing again this summer and looking her best. KATY's new hail will be Mt. Sinai, NY and her owner plans to make a stopover with her at the
Wooden Boat Show
in Mystic, CT June 28-30. We'll be there as well!
There are a few other boats like KATY for sale through our brokerage right now that are in very good structural condition, and priced low because their paint and varnish have deteriorated. Our finishers have the capacity and strong desire to spruce them up for new owners in time for this summer season. You can learn more about
TIDALWAVE
and
ARION
, as well as our many other wooden boat offerings in our
Brokerage
.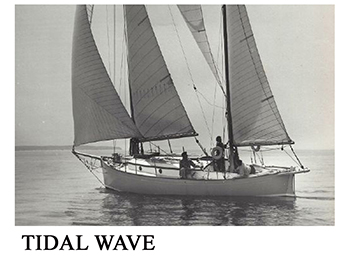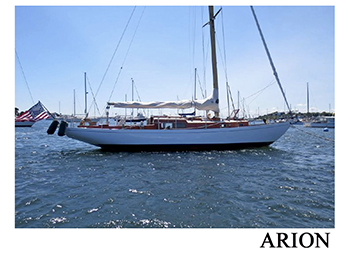 We've been fortunate to receive some good press coverage lately – beginning with the August cover story by Matt Murphy in
Wooden Boat Magazine
about our 24' Herreshoff inspired yacht tender. More recently was an article in
Water Craft Magazine
by Kathy Mansfield on the two Buzzards Bay 18 replicas we built in 2012 and 2013, and this month an article in
Maine Boats, Homes, and Harbors
by Art Paine on our next project: The recreation of MARIAM, a 26' Gil Smith cat boat from 1897. Click thumbnails below to read.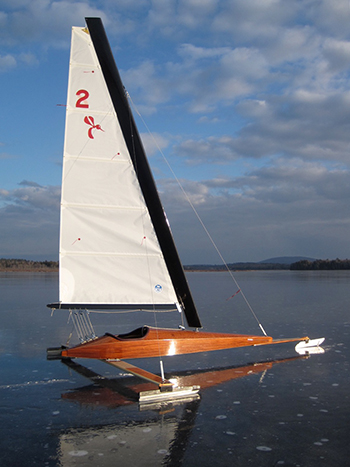 My loving wife Erin, who now runs the business side of Artisan Boatworks, has been saying for years that I need to find a hobby that doesn't involve boats. Needless to say, that hasn't happened. So, in an effort to diversify my limited leisure time
slightly
, she and the girls surprised me with an ice boat on Christmas morning. Holy Moses! If you're a "soft water sailor" and haven't tried ice boating yet, come to Maine this winter and join me for a spin around the lake at 40+ knots. You'll be hooked too!
Custom ice boat (not mine) built by our friend Bill Buchholz.
Learn more by visiting our local Chickawaukie Ice Boat Club.