SUMMER RACING AND CRUISING
 Summer got off to a great start with Camden Classics Cup in late July, followed by the Eggemoggin Reach Regatta in early August. Erin and I, along with our daughters, raced NORA in both events, and were thrilled (and slightly amazed) to win third place in our class at the ERR! Travel writer Johnathan Blum wrote a wonderful recap of Camden Classics from his perspective of sailing Watch Hill 15 JEANNE in the daysailer class, which you can read in full here.
Following the Eggemoggin Reach Regatta we sailed East to Roque Island for a few days, and then spent the next two weeks cruising between Mount Desert Island and Vinalhaven. This time as a family aboard NORA never ceases to remind us how incredibly lucky we are to live, work and sail in Midcoast Maine!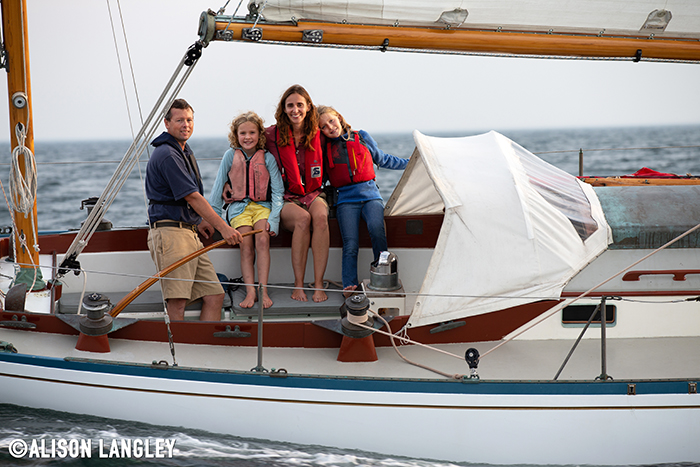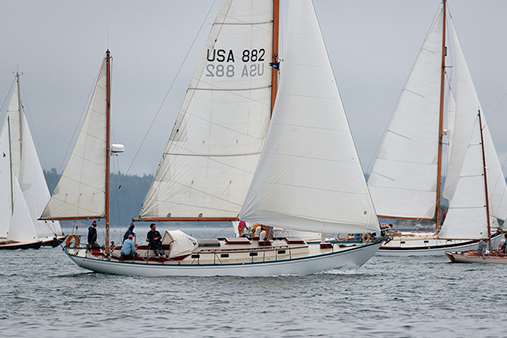 CURRENT PROJECTS
SEA LADY – One of my favorite boats, SEA LADY, was in the shop this spring for an overhaul. 18′ LOA and designed by Aage Nielsen in 1948 as an open cockpit daysailer with a small auxiliary diesel, she was later refitted with a large house and the engine removed. SEA LADY needed a new stern post, and the owner determined that this was an opportune time to reinstall an engine. While discussing the merits of removing the house and going back to the open cockpit arrangement, we conceived a new layout that renders SEA LADY both better looking and more useable. A Beta 14 hp diesel was installed in the position indicated by her original design, and then we moved the later added main bulkhead forward 24″ – literally doubling the size of the cockpit while maintaining the two bunks below deck in the cabin. SEA LADY's owners can now comfortably daysail with friends and family and extend their cruising range to the islands of Penobscot Bay – regardless of the breeze.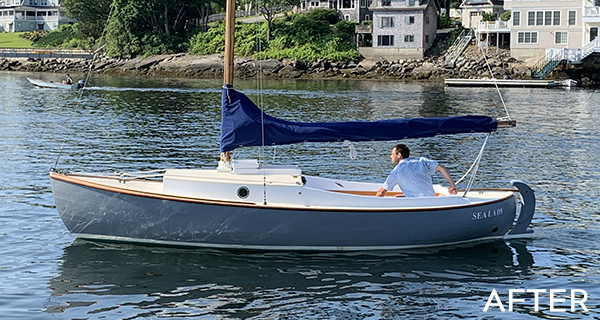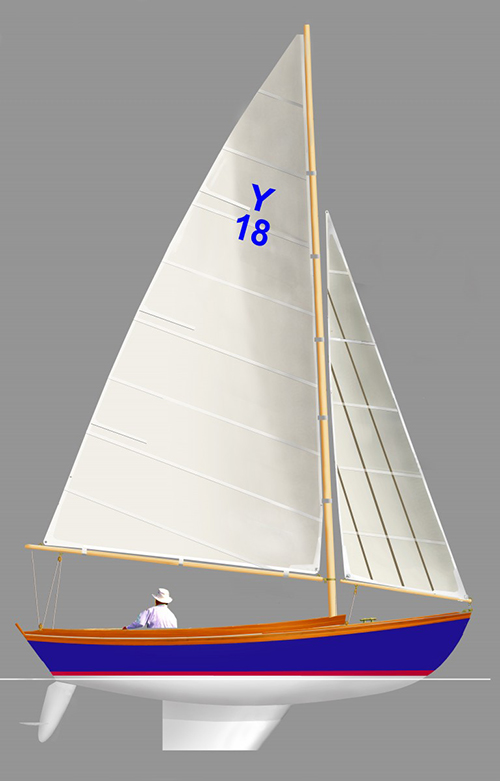 YORK 18s – As noted in the recent issue of Maine Boats, Homes, and Harbors Magazine, York Marine in Rockland is building a pair of 18′ fiberglass daysailers to a new design by the venerable Chuck Paine. Intending these boats to blend modern safety and performance with classic Herreshoff detailing, the builder and designer together chose Artisan Boatworks to install the woodwork. This included transom sheathing inside and out, the distinctive molded Herreshoff sheer planks, side decks, toe rails, and coamings. It will require an experienced eye to discern that these boats are fiberglass, unless of course you're in the cockpit where the lack of traditional structural elements is a giveaway. Read the article by Art Paine here.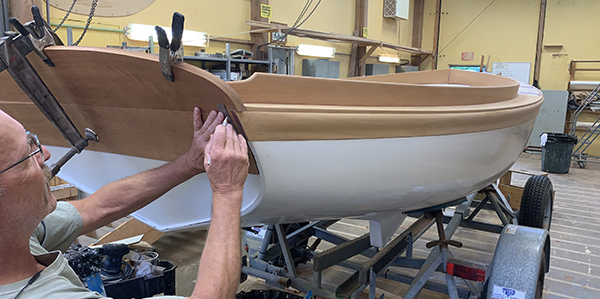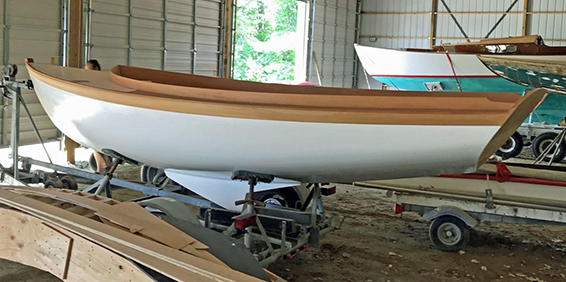 WHITECAP
WHITECAP (originally MIST) is a ROZINANTE yawl built in the 1960s under the supervision of designer L. Francis Herreshoff.  WHITECAP's owner decided to move her from Mount Desert Island to the Connecticut River, where the tidal current necessitates auxiliary propulsion.  Along the way he brought her to us, and like SEA LADY, we will install a Beta 14 diesel. Once sea trials with the new engine are completed in October, WHITECAP will remain in our care until spring, when she will be transported to Essex, CT for launching and rigging.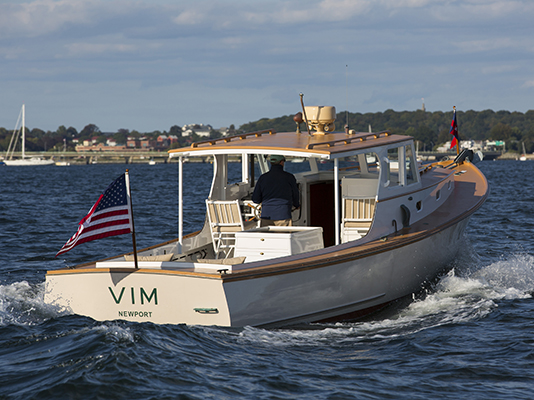 September is traditionally the busiest month of the year for brokerage and this year has been no exception.  Wooden boats are selling fast and new listings are coming in almost every week. You can see our listings and keep abreast of recent price reductions, click
 on the "Brokerage" tab on the menu.
VIM, the 1957 Newbert & Wallace picnic boat completely restored and fully updated by Artisan Boatworks in 2011, has had a significant price reduction. Photo ©Billy Black
BESHERTE is a 29' Herreshoff Buzzards Bay 18 built by Artisan Boatworks in 2013.  Winner of the Gaffs and Schooners division at the Eggemoggin Reach Regetta last year, and Daysailer Division at Camden Classics This year, she is in as-new condition and has also had a significant price reduction this week. For more on BESHERTE you can review her listing here.
Photo ©Alison Langley
For the ultimate classic daysailer, nothing beats a Watch Hill 15. JEANNE was built using wood/epoxy construction by Artisan Boatworks in 2011, raced in the Camden Classics Cup this summer, and is now for sale. JEANNE is in new condition, on a trailer, and ready for launching. She could be delivered to your home in Florida this fall, or if you sail in New England, storage this winter and launching/rigging next spring can be included with her purchase. Read more here.
SERVICE
Now that we're back at work, fall hauling and decommissioning are in full swing. We're proud to care for over seventy wooden boats from as far afield as Northeast Harbor, Nantucket, and New York. As our dedicated rigging crew decommission and transport these fine vessels by either land or sea, our team of yacht finishers go to work in our specialized climate and dust controlled paint bays, applying flawless coats of paint and varnish for next spring when the whole cycle starts again. For an in-depth overview of how our crew achieve the incredible finishes they do, please take a moment to watch the three-part video series recently produced by OffCenterHarbor.com: "Varnishing Tips & Techniques with Artisan Boatworks." 
Thanks in large to the success of our brokerage, we have some space available this year for new service clients. If you have a wooden boat in need of expert care, accurate estimates, and on-time delivery please reach out to Alec@ArtisanBoatworks.com. Your referrals are greatly appreciated!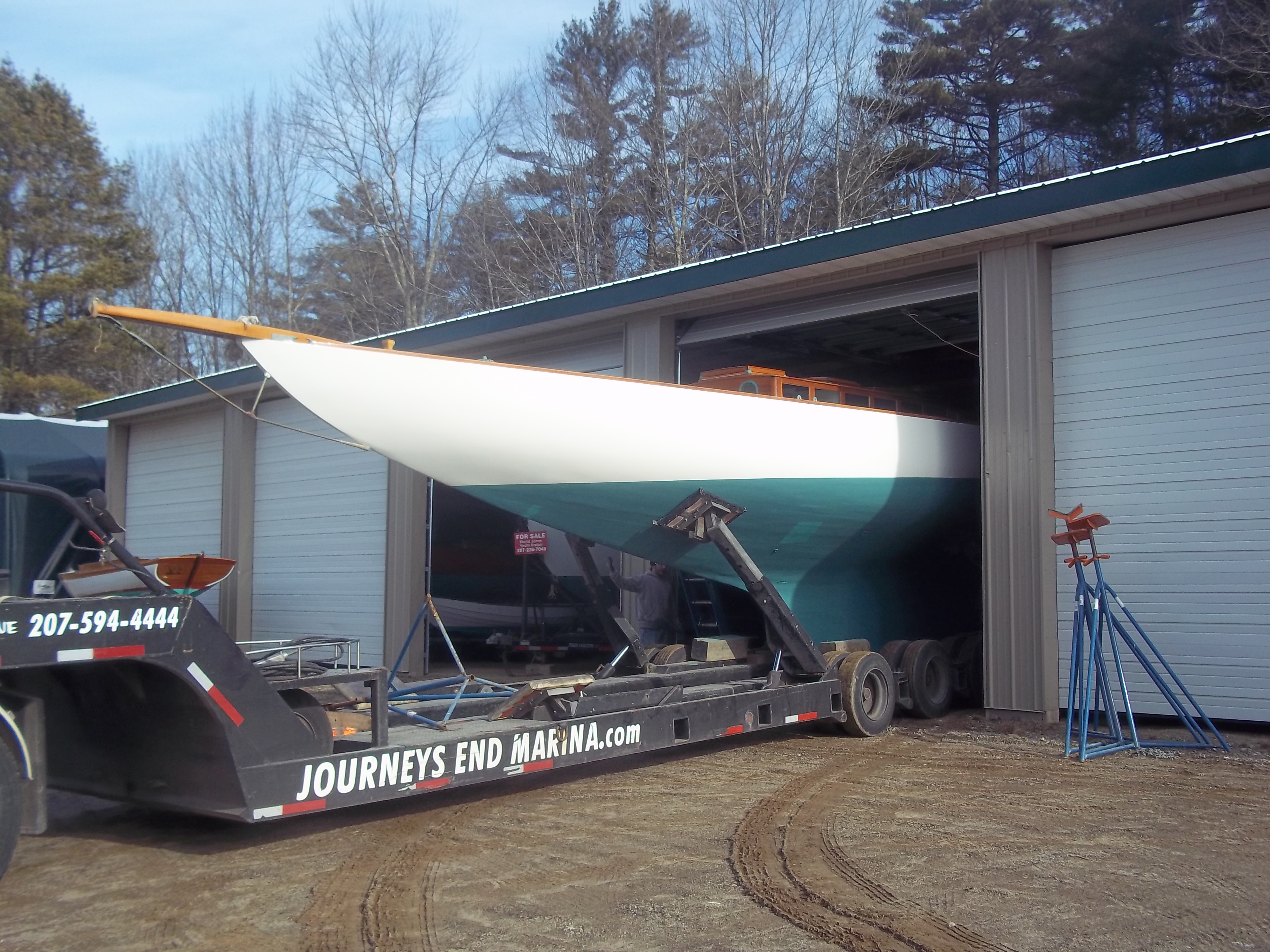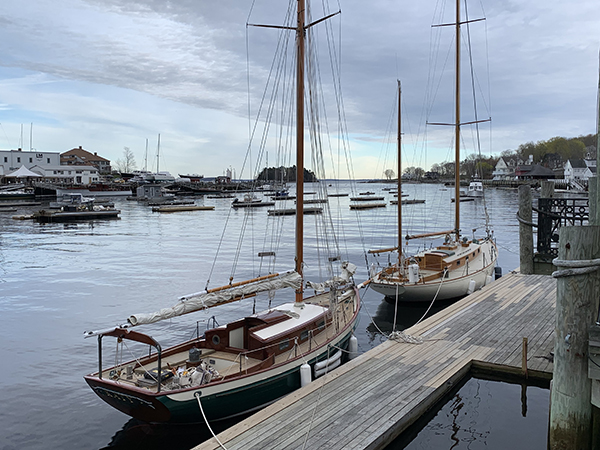 NEXT PROJECTS
We have some exciting new build and restoration projects – both large and small – in the planning stages that you'll be hearing more about soon. Our carpentry schedule this fall/winter still has capacity for new builds or restorations that can be completed in time for spring launching. If you're looking for the perfect project but not sure what to do, or looking for the perfect boat that isn't a project, please get in touch. There's nothing I enjoy more than putting my lifetime of experience to work, helping our clients discover and/or create their ideal boat to fit both lifestyle and budget. Please don't hesitate to call me directly at (207) 542-0372 or send me an email.