INTRODUCING OUR LATEST NEW BUILD!
We're proud to have recently finished building a new full-keel Buzzards Bay 15 for a family on Cape Cod. Based on the well-known centerboard Buzzards Bay 15's designed by Herreshoff in 1898, this is the 7th of these 24′ sloops we have built in the past ten years. View more construction photos here.
The full-keel 15s are well-balanced and stiff, featuring an extra-spacious cockpit and self-tending rig with no running back stays. This new boat, named AGLAIA, will be based in Marblehead, MA, and be unveiled at the upcoming Cape Cod Boatbuilders Show in Hyannis, MA March 22-24. We hope to see you there!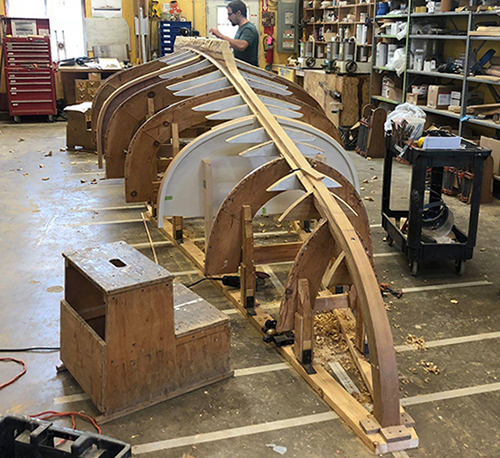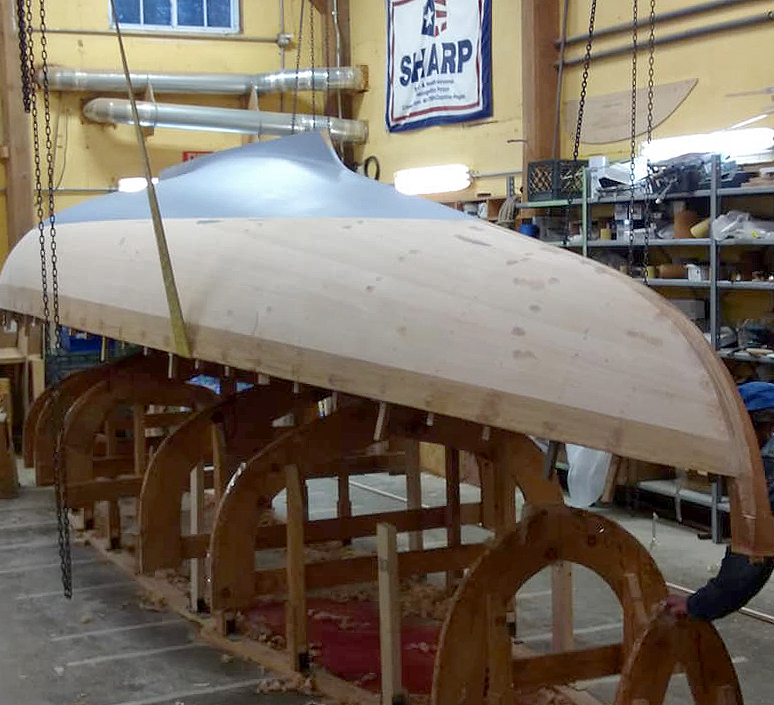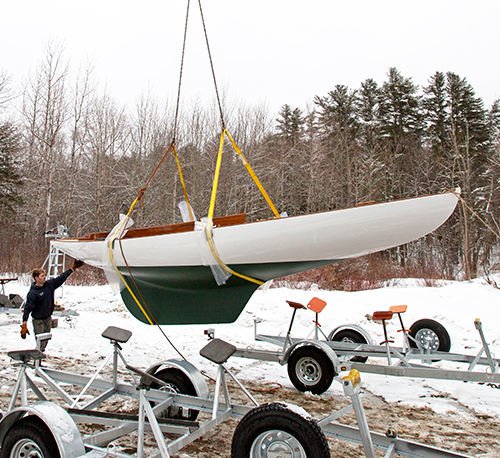 WHIRLWIND II
We know that many of you have been patiently awaiting more news on our latest project. WHIRLWIND II will be a re-creation of the 26' Great South Bay cat boat MARIAM, designed and built by Gil Smith in 1897. Guided by owner Yarrow Thorne, the design was updated for modern wood/epoxy construction by Ezra Smith and Matthew Smith. Alison Langley Photography is documenting this exciting project and you can visit WHIRLWIND II's new website – www.whirlwind2.com – to follow our progress. It's always a pleasure having Alison in the shop, and her talent and eye for detail shows the true artistry of boatbuilding.  
BROKERAGE

The gaff-rigged yawl EMILY MARSHALL was designed by Sam Crocker and built by the George Gulliford yard in Saugus, MA in 1946. She was commissioned for then Commander, later Rear Admiral, naval historian and Pulitzer Prize winning author, Samuel Elliot Morrison who sailed her extensively along the coast of New England and particularly around the waters of Mount Desert Island, ME for many years. In 2002-2003 EMILY MARSHALL was rebuilt to a "better than new" standard by Brion Reiff Boat Builders of Brooklin, Maine. Click here or give us a call for price and more information.
SERVICE
Our carpenters and finishers have time available this spring to help with your projects, however large or small. Please let us know how we can help get your boat in the water on time and looking her best.