Belfast Lough One-Design by William Fife III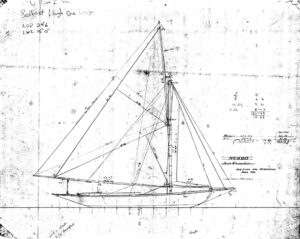 One look at this design will tell that she is not an American boat, with her combination of a snubbed forward overhang and a long counter stern. Her famous Scottish designer was well known for emphasizing beauty above all else (although his boats were famous for their racing careers as well), and we chose this design specifically because we think she is something really special in terms of her looks.
Strictly a daysailer, and emphasizing appearance over comfort, she has the elegance and refinement of a larger yacht. The extreme aft overhang, the lovely oval cockpit coaming, the deep cockpit, and her gaff rig give her tremendous antique appeal, and despite her diminutive size she should make quite an impression in any harbor. This is a boat to take out and sail hard, for the pure thrill of it, and while she will be plenty safe for family sailing, other designs on our site will offer more in terms of room and comfort.
We also offer a version of this little yacht that follows the "Spirit of Tradition" thinking by retaining all of the original's appearance above the waterline, but with significantly lighter displacement and a modernized underbody featuring a fin-and-bulb keel and a spade rudder. This should result in even higher speeds than in the original design, while retaining its aesthetic appeal. We also slightly modernized the rig to make it a bit simpler, while retaining the basic proportions. We call her the Artisan 15. Either version can be well recommended for those who wish to emphasize a combination of charm and performance.