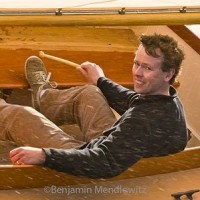 ALEC BRAINERD – President
After many years working in boatyards as a shipwright, and crewing on large classic yachts around the world, Alec (a Maine native) founded Artisan Boatworks in 2002. He lives in Rockport with his wife Erin, and two daughters. Alec and his family enjoy Skiing and the Camden Snow Bowl in the winter months, and sailing their 40′ Sparkman & Stephens yawl NORA in the summer.
NICKY SALISBURY – Office Manager
Nicky's construction experience started with South Coast Improvement, a general contractor out of Massachusetts. Having always been interested in architecture and building, she took a position at South Coast as office manager & Bookkeeper. Due to her attention to detail, project budgeting skills, and customer relations, she was promoted to vice president of Production. She was responsible for several large scale projects from Vermont to New Jersey. After relocating back to her home state of Maine, Nicky took a position at Rockport Marine, where she discovered her love for the art of boatbuilding. During her time at Rockport Marine she assisted in all aspects of the office and learned as much about the "behind the scenes" workings of a boatyard as possible. Anxious to dig into the business even further, Nicky transitioned to Artisan Boatworks in the summer of 2013. She is excited to be a part of such a wonderfully talented team.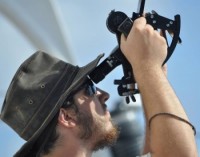 FREELAND ACKERT – Boatbuilder
Freeland grew up on Cape Cod where he spent considerable time messing about in boats sailing the family's 18' catboat, refurbishing a Volvo MD1 engine, and building a dinghy and iceboat. He has an AA from The Landing School where he studied wooden boat building and yacht design. After sailing on the Corwith Cramer from Woods Hole, MA to St. Croix, USVI, with Sea Education Association (SEA), Freeland refined his finishing skills at Ballentine's Boat Shop in Cataumet, MA. He is happy to be back in Maine with its many opportunities for sailing, photography and folk music.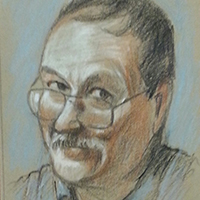 IAN BRUCE – Boatbuilder
Ian was born in South Africa and turned 19 on a cargo ship of the Cape, heading off to see the world. He hitch-hiked round Europe, working on farms, an oil rig in the North Sea, and tending bar here and there. Ian started crewing on charter yachts in the Mediterranean based in France and Greece, then crossed to the Caribbean. After a few years sailing the East Coast of the US in summer and the Caribbean in winter, he moved to Maine to study Small Craft Design at the Yacht Design Institute in Blue Hill. After graduating he went back to sea for a while, joining a yacht being built in Japan. Then he got married and moved ashore for good. Ian worked at Wayfarer Marine, the Tenants Harbor Boatyard and Rockport Marine before joining the crew at Artisan. He also is a landscape painter, and recently a builder of Native American-style flutes.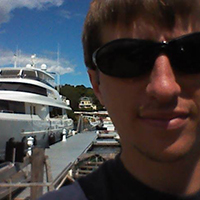 JOSH CUNNINGHAM, Finisher
I grew up in Midcoast Maine. I attended the University of Maine, Orono for the AutoCAD program and then went onto the Maine Engineering Center in Brunswick for the Composite Science program. I worked at Front Street Shipyard on the paint crew for over three years before joining Artisan Boatworks, where I have become much more experienced with finish work. When I'm not at work, I am usually with family or spending time in the sun, rock climbing and outdoor exploring…always looking for a new adventure!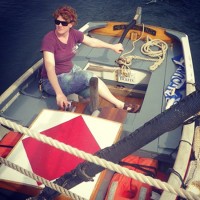 AMBER NUITE – Finisher
Born in central Maine, Amber grew up and attended college in Vermont, where she received a BA in History and Spanish in 2010. That same year she moved back to Maine and started working on the Schooner Lewis R. French, Maine's oldest windjammer, an 1871 coasting schooner built in Christmas Cove. In the 5 years she spent working on board the French as a cook and a deckhand, Amber developed a love for sailing and for maintaining wooden sailing vessels. She is glad to have joined the finishing team at Artisan, where she can continue to help keep classic boats looking their best. When she is not at work, she can be found skating with the local Roller Derby team, or hiking with her two dogs in the Camden Hills.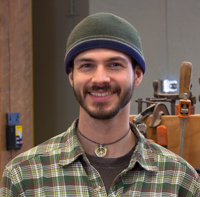 ANDERS von ASCHWEGE – Boatbuilder
Anders comes to Artisan Boatworks from Nahant, Massachusetts, where he grew up sailing, working on and living aboard boats. Anders completed the Traditional Boatbuilding program at the Landing School of Boatbuilding and Design in 2006. Since then he has worked in the Marine Industry in the capacity of a sailmaker with Doyle Sails and a finish carpenter at Manchester Marine. He has enjoyed many childhood summers vacationing in a log cabin in Cushing, as well as cruising the Maine coastline and has always felt "at home" in Maine. Anders has developed an appreciation for learning and preserving traditional trades, living simply and also teaching yoga and meditation. Anders has a passion for yacht design and classic boats and aspires to some day build boats of his own design.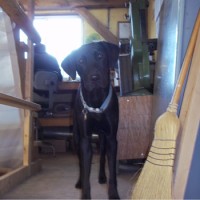 CYRUS – Shop Dog
Cyrus enjoys chewing cedar bark, avoids wet glue, and tracks muddy paw prints through the office daily. He has recently enrolled into the local dog college (better known as obedience class) and hopes to graduate with flying colors. He loves visitors and welcomes everyone with enthusiasm!